1997 Chevrolet Express 1Ton Turbo Diesel / WVO 6.5L 4x4, 5-speed Camper Van
$22,000 in San Francisco, CA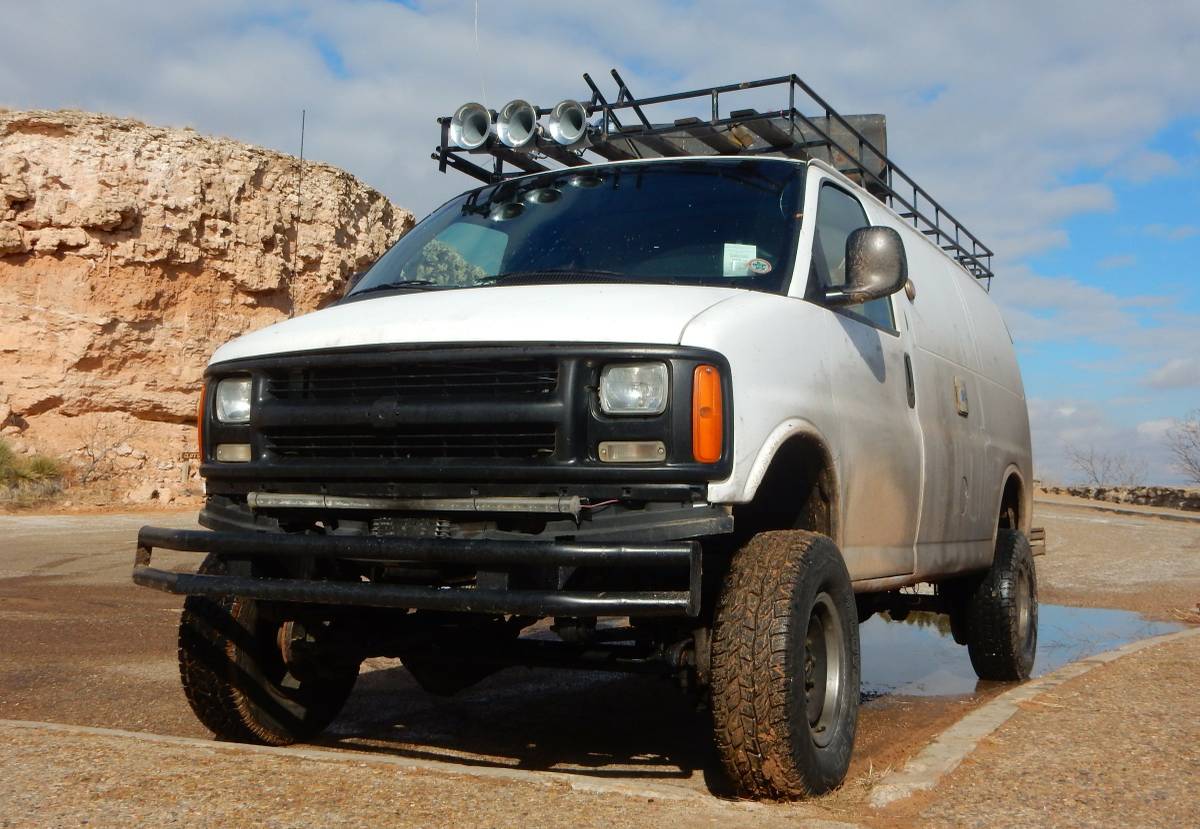 I'll be traveling most of the next couple of years overseas and thought I'd post this once before putting the van in storage. For 2 years it served me well for tours around the West.
It is the ultimate SMOG EXEMPT
Diesel 4x4 CamperVan
Conversion for powerful off-road adventures and comfortable road trips, fully equipped for free long-term off-grid camping in nature.
While not as polished and refined, it has more useful features than my Sportsmobile and GTRV had.
4x4 CUSTOM CONVERSION
(all 2 years ago):
4x4 with in-cab shifting between 2H, 4H, or 4L, and reliable external front hub-switches
Rebuilt Dana 60 Front, Corp 14 rear axle, new 3.73 gears
manual 5-speed stick shift for more control and fuel efficiency: 214 transfer case, NV4500 5-speed clutch, pp, flywheel
leafs/helper leafs
custom lift
drive shafts front & rear
adjustable air shocks all around, built-in air compressor, air horns, tire/boat inflator port
New king pins, Tie rod ends
New Exhaust cross over flex pipes
ENGINE / MECHANICAL

1997 is the coveted last year Diesels are Smog EXEMPT:
New mechanical injector pump and lines (DB2 instead of the often failing electronic DB4)
Robust larger Marine injectors, new glow plugs, glow relay, custom glow button
New Power Steering Pump
New Diesel lift pump
New Diesel tank fuel sender
New break pads/rotors, new rear break shoes & flushed break oil
New Starter, e-range 10 ply A/T coopers, 2 new starter batteries
Hidden Kill Switch
Custom full Autometer dash (with gauges for pyrometer, diesel turbo boost etc.)
100w HID headlights, LED bar in front
Custom complete roof rack
Highlift jack on rear rack
Custom bumpers / rear deck
SPORTSMOBILE side ladder (removable)
Bike rack
most parts have life-time warranties, most receipts included
CAMPING

Power Generator
Dual propane tanks, Rear carrier with DOT gas, Diesel, Water tanks
120V AC and 12 V power systems
120V 4K Pure Sinewave inverter, total of 6 batteries
Automatic Crossover switch for shore power /generator, or charge while driving
60 amp battery charger/maintainer
Engine block heater can be operated from on-board batteries or generator

1.3cu fridge/freezer
Propane 2-burner stove with oven
CO2 indoor air quality sensors, fire extinguisher, first aid kit, etc.
Kitchen 2-bay Sink with pressurized on demand running water, heater, and shower
60 gal water tank
3 water pumps
pull-out awning
9-stage reverse osmosis water filter system with ppm meters
Foldout bed/couch
Large under-bed storage, and rear cabinets
Fuel Efficiency and climate change/carbon neutral :
14/18 city/hwy miles per gallon on Diesel, Bio-Diesel, and on straight vegetable oil (SVO / WVO ) with similar performance and even lower emissions
30 gal main diesel tank and 40 gal heatable aux tank, about 70 gal total = 1200 miles driving without refueling
Use on just diesel or with optional free biofuel (similar fuel conversion systems cost about $6000 from BiofuelsTechnologies.com or GreaseCar.com)
Better than those off-the-shelf kits, this system can switch off the coolant heating of the second tank, to keep fuel from unnecessary heating in summer or when just running on diesel
To use biofuel system start van on diesel, when at operating temperature switch to biofuel, 1-2 minutes before end of trip switch off to purge lines with diesel. Or just use the 40 gal second tank with diesel.
Skip the gas stations! Reduce your environmental carbon footprint and save money at the same time!
You can buy clean biofuel in many areas for $1-2/gal from other users or make your own free fuel by recycling your local restaurants' cooking oil.
If interested, with the van you can receive an easy, fool-proof and very efficient filtration system for your garage: with two 55 gallon drums (plus another 55 gal storage drum if you like), one drum is heated/isolated for optimal filtering/dewatering/settling, 2 filters, 2 electric pumps (and/or if you prefer 1 manual pump) to clean to below 1 micron (cleaner than the OEM standard Diesel fuel filter) and pump clean fuel straight into your tank. As noted above, in addition the van has four on-board additional filters and a heated water separator with reusable filter and easy water/sediment drain outlet.
If interested it can also include spare biofuel filter, several pumps, centrifuge, and 2nd set of equipment for collecting and filtering (was planning to build a complete collection and on-board filtration system on the roof or under the van for Trans-Am trips, but so far simply carried more fuel on the large roof rack, see photos)
Low operating costs:
California Registration $98 / year (current til 2019), insurance incl. comprehensive theft/damage for less than $300/yr
Low and cheap maintenance thanks to all-mechanical rather than electric injection /vacuum turbo systems and
No SMOG checks required
Background & Disclaimers:
This van is not perfect as the photos show. Aesthetically, it shows signs of honest use: It has a few small dents, mainly one each in the three doors on the passenger side, and one in the lower middle driver side panel. All are minor and could probably be pulled out with minimal effort. The (re-)paint is uneven in places, and there is some rust, as the van spent time in Ohio.
It started life as a Government van, and then had 2 owners before me.
The previous owner had it for about 4 years and did all the conversions. I owned this van for 2 years and had everything replaced that seemed necessary to prepare the van for serious long-distance road trips (some off-pavement); still, obviously many parts are up to 20 years old and might need replacement at some point.
Happy to answer all questions. If you'd like to talk, send me your number and available times.
As I'm leaving on a trip overseas on March 5th, the van will go into storage if not sold and picked up by the end of February. I can only help with shipping before that date.
The robust Chevy / GM 6.5 L Diesel engines were used for over 30 years until recently in these vans, in Hummers, Postal Delivery vans, pickups etc. Parts are ubiquitous. After previously owning a Dodge Sportsmobile and a 2005 Diesel Ford GTRV 4x4 CamperVan and seeing friends with other vans, in my experience this build was more reliable than Ford Econoline E-350, E-250, GTRV, Salem-Kroger, Mercedes / Dodge Sprinter, VW Vanagon Syncro Westfalia bus, PleasureVans, Quigley, Toyota Land Cruisers, etc.