I know this is not the right forum but this is the one I am on with my vans (not changing) and having such a good spirit. I will post this question here and only here.
Planning to exhibit a Jeep camper on 1-2 shows in the US this spring, I am searching for a Jeep Jk unlimited to base it on.
If you know, have one for sale, ...
I would appreciate hearing from you.
Preferably by PM.
The conversion can be removed if needed
Teaser picture.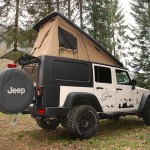 Thanks for your contribution,

Andrew

__________________