My shocks look pretty beat up, nasty and I have a "thump" in the passenger-side rear area that is suspension related so I think it's time for some new shocks. The issue seems to be that there are not a ton of quality options listed for a 2005 Express Van AWD 1500. Here is what the mounting for my shocks look like:
Front design
Rear design
KYB and Monroe seem to the only brands out there that have my van listed. If all else fails, I'll probably go with matching KYB Gas-Adjust shocks in all 4 corners (
Link
).
However, I would be intested in using Bilstein but nothing is listed for a 1500 Express Van. I did some digging and Bilstein does have a HD rear shock for the Express 2500. Bilstein also has HD and 5100 series shocks available for the 1500 Avalanche which shares the same front mount design as my van but a double-eye rear design. I have confirmed that lengths are mostly correct. The gross vehicle weight of my van is 400 lbs. more than an Avalanche (7200 vs. 6800 lbs.). Many of these numbers match a Yukon XL 4x4 that has a GVW of 7200 lbs. My question and assumption is are these shocks are valved differently to the extent that they would not work in my van or is this a case that they just aren't marketing to the van segment much?
If the lengths and valving work, I found this conversion kit that I believe would convert a shock with an eye to the design shown above. Does this seem correct?
Eye mount adapter
Summit Racing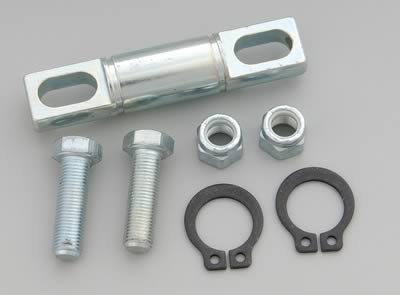 Thanks for any help! If this proves to create more questions than solutions, I may just go with the KYBs. I'm just trying to think outside the box a little. Here is a detailed list (with links) of the Bilstein shocks that I'm wondering about:
Bilstein HD (B6)
Front -
24-065009
(for 2005 Avalanche 1500)
Rear -
24-025706
(for 2005 Express Van 2500)
Bilstein 5100
Front -
24-186643
(for 2005 Avalanche 1500, 0-2.5" lift)
Rear -
24-187237
(for 2005 Avalanche 1500, 0-1" lift, would need Summit Racing adapter for top mount)